Anthem
, by Ayn Rand
Chapters 7-8
Lucas Taragano
This week while reading the book Anthem, by Ayn Rand, there were two quotes that stood out for me, and in this post I will talk about them.
1) "Only we wished to be away, away from the City and from the air that touches upon the air of the City. So we walked on, our box in our arms, our heart empty."(Part 7)
In this scene of Anthem, Equality 7-2521 is running away from the World Council of Scholars, where his idea has been denied and has broken all of the laws. What happens is, Equality 7-2521 creates electricity, and somehow finds a way to make a glass box with it inside, which nowadays is known as a lamp. This lamp, however, breaks some of the City's principles, such as Everyone has to know about it for it to be correct, or that with this new "invention", the Department of Candles would have to close down, and everything that men have done to help it will be thrown away. This specific quote really shows some distinction between Equality 7-2521 and his society, and how he is so different from them! Equality 7-2521 has never felt so torn apart like this before, and this feeling is brand new for him. In my opinion, this new discovery might have happened because of The Golden One. Equality 7-2521 fell in love with her and this might have changed his way of thinking, and might have made him more innovative.
Source
2)"We sat still and we held our breath. For our face and our body were beautiful." (Part 8)
After Equality 7-2521 ran away from the World Council of Scholars, he goes into a forest, and right there his whole life changes. He was walking in the forest when he sees a very calm and still lake, in the middle of many trees. When he goes there to take a look at it, he is amazed. Equality 7-2521 looks in the lake and sees his reflection for the first time. All the bad feelings he had because of the glass box go away after this new phenomenon for him. My prediction for the rest of the story is that he will start seeing himself as an individual, as one. The reason for this is that now that he saw who he really is, he knows he isn't a group, but he is himself.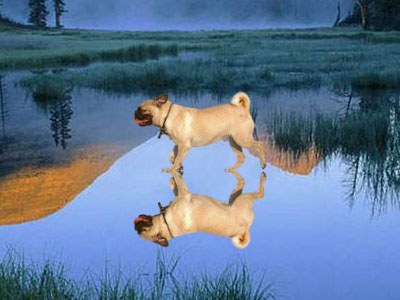 Source