Anthem, by Ayn Rand
Part 1 & 2
Connection Captain
Lucas Taragano
This week I started to read the book Anthem, by Ayn Rand. It is a dystopian fiction novella, and until now, I have found it really confusing. In contrast, even with such confusion in my head, I was able to make some very clear connections to other books and movies. To begin with, the scene in part one where the council tells the people what their "job" will be for the rest of their lives connects with the book The Giver, by Lois Lowry, another dystopian fiction. In The Giver, Jonas, the protagonist, also has his job chosen in a ceremony similar to this (Lowry, 50). In my opinion, since Ayn Rand's book was published in 1938 and Lois Lowry's was published in 1993, maybe Lowry used Anthem as a dystopian reference. Pushing this connection further, the way the society seems to work in Anthem, which is very strictly follow the council's laws, is similar to the giver where people normally are very stern on what is right or wrong. Image Source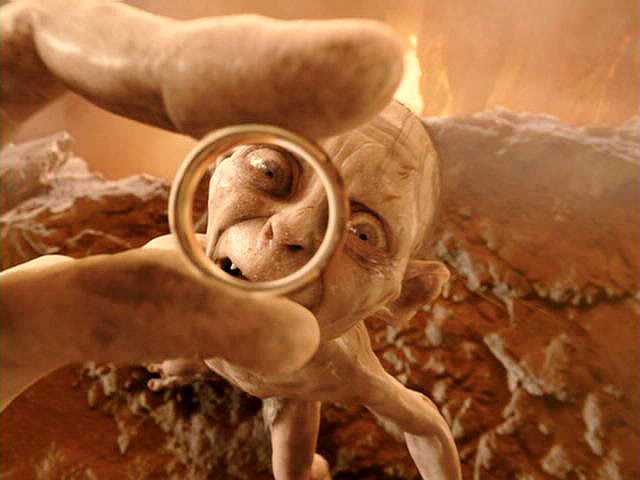 Moving on, something else that I was reminded of while reading Anthem was one of Lord of Ring's characters,
Sméagol (Also known as Gollum). It is a very instant and clear connection to those who have watched or read the series. Sméagol speaks in a plural version of first person, for example when he says "we hates it". This is just like how all the characters speak in Anthem. On the other hand, the reason that Sméagol speaks this way is because he has some mental challenge, and is looking for his precious ring. He has a split personality, and this can be clearly seen when he is with the story's main character, and he talks to himself, one voice saying don't kill him and the other saying yes, kill him. This might not be the case with
Equality 7-2521, but we will have to find out.
Nielsen, Cliff.

The Giver Cover

. 1993. Photograph.

Lowry, Lois. "Chapters 7 & 8."

The Giver

. New York: Houghton, 1993. 50-64.

Print.

"Gollum-Ring." Saganomringen. Wikia, n.d. Web. 10 Oct. 2014.
<http://img1.wikia.nocookie.net/__cb20130904211938/saganomringen/images/7/7f/
Gollum-Ring.jpg>.